International Dating Blog
Join the AFA team as they provide expert insight into the world of international dating, travel and marriage.
Backed by decades of experience in assisting men and women through matchmaking, John Adams and his team continue to provide value through sharing their first hand experiences.
Foreign Women Show Attraction with Body Language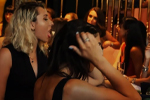 Watch Video
Men unfamiliar with the cultural norms of foreign women are often confused by the gauging their attraction body language when engaged in a first introduction or date.