International Dating Blog
Join the AFA team as they provide expert insight into the world of international dating, travel and marriage.
Backed by decades of experience in assisting men and women through matchmaking, John Adams and his team continue to provide value through sharing their first hand experiences.
Can International Dating Be The Answer For You?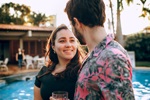 See More »
Although international dating has helped thousands of single men and women all over the world find their better halves, it's not always a quick fix for those who are eager to find genuine love.