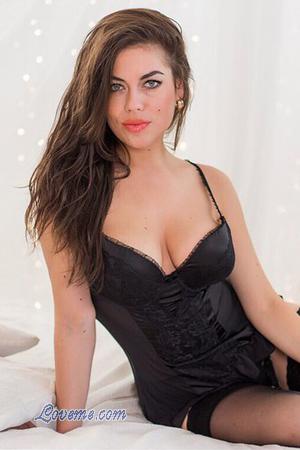 ID: 136803
Olga
Ukraine
City:
Sevastopol
Age:
30
Zodiac:
Sagittarius
,
Rabbit
Weight:
112lb, 51kg
Height:
5'7", 170cm
Eye Color:
Green
Hair Color:
Black
Marital Status:
Single
Children:
None
Religion:
Christian (Orthodox)
Smoker:
No
Drinker:
No
Education:
University
Company:
Privagte
Job Title:
Cosmetologist
Sports:
Tennis, Fitness, Bicycling, Rollerskating, Volleyball
Hobbies:
Belly dancing, pole dancing, cooking, nature, singing, photography
English:
fair
Languages:
Russian (native)
Self Description: I am a very kind, affectionate, very tender, passionate, beautiful, hardworking, clever, foxy, cheerful, kind-hearted, charismatic, and with a good sense of humor. I like communication and I do not like to be bored. I am very sensitive and prudent. I am full of energy and I like to stay in a good mood. I believe that moral things are more important than material things.I am a woman with a big world view. I like to know something new. I like to keep my body in a good shape. I like to spend my time on the beach with friends. I like nature and animals. You will never get bored with me. I am an extraordinary and creative woman. I try to stay positive always and like to give smiles to people. I enjoy my life and I try to take everything from it. I am very honest and faithful. The most important in relationship for me is love, trust, mutual understanding and respect. I am passionate by nature, hot blooded woman, with charisma, brilliance and impulsivity. Passionate woman - this is what every man dreams of. But it does not mean that I need every man, I need only one man, whom I will make feel himself the best man in the world! It is not my only benefit! I have all the qualities of real woman- the ability of listening, understanding and giving support and kindhearted.
Comments: I am looking for a Real man. I need a man who will be ready for creating a family with me. I do not ask too much. I just want him to give me all his love and I will do the same for him. I need a man, a strong man, a real man who will be able to see that I am just a girl that needs to be taken care of. I need a man, who will make me laugh, who will treat me like I am the only girl in the world. I hope that my dream will come true very soon. I don' look here for some celebrity or handsome, I want to find honest, loyal, caring man, with good sense of humor and open mind! The ideal match for me is not about how he is looking, or what he is doing, and even how old he is. I am dreaming about man with whom we will be integral, organic whole! With whom we will complement each other! So the most important for me is soul connection, and not the external things! I am here with only serious intentions to find my person once and forever. I am not a kind of person who will try with everyone. I am looking for one man, my man. Only real feelings, no pain, please. I don't care about your age because age doesn't mean anything when it comes to love. I have a lot of examples of happy couples with a huge age difference (my parents!) in my life and this people are very happy. I am sure together we can make something interesting. So if you are interested please write me. Waiting for your attention.