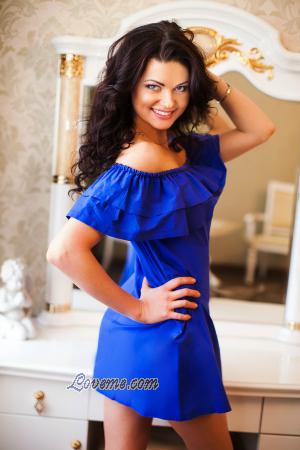 ID: 162861
Natalia
Ukraine
City:
Odessa
Age:
31
Zodiac:
Pisces
,
Ox
Weight:
106lb, 48kg
Height:
5'6", 168cm
Eye Color:
Blue
Hair Color:
Brown
Marital Status:
Divorced
Children:
1 - girl, 3
Religion:
Atheist
Smoker:
No
Drinker:
No
Education:
University
Company:
Private
Job Title:
Secretary
Sports:
Running, swimming
Hobbies:
Sport, dancing, writing poems, cooking, music
English:
poor
Languages:
Russian (native)
Self Description: It's quite hard to describe myself, my friends say that I am very kind, gentle, loving, strong and sincere. In relationship I am very faithful, but anyone will get bored with me, because I never impose my opinion. I'll give my man a certain freedom of life, which I expect of him in return. It certainly does not absolve us from the responsibility before each other. At the same time I am happy to plunge and support the passions and hobbies of my man and even help if you need to find something for you soul. I respect the identity of each person, his life, hobbies, habits, desires. The character I have a little touchy, picky, it is difficult for me to bear criticism and often painful. If a person comes to me fairly and honestly, he also will receive it in return. I am - a mirror! My joy and pleasure that my beloved man love and respect himself more just because he is with me.
Comments: I would be glad to get acquainted with a strong, purposeful, honest, kind to children and to me, sincere, generous, intelligent, loving travels and my kisses man. As I'm looking for a serious relationship and want to build a strong family a man must take care of and support me in everything, to give advices. I stand for a close and trusting relationship and the lack of mystery and innuendo on both sides of the union. For me spiritual component of the beloved makes an importance, because life is not limited to only mercantile interests. I would not want to have a relationship with a deeply religious man (no matter what denomination he belongs), I don't like personalities in able to objectively assess their feelings, accept another point of view, who unwilling to see the contradictory facts. I would not like my man to hurt others, directly or indirectly, even if from it depends his major financial income. It will not fit into my mind (if I know it or guess) and can r! ise to conflicts. I would like a strong family, in which measure of the fate will be love and prosperity. I'am ready to start a romantic and friendly relationship.